Key Components
The goIDM model comprises of four components: Electrical, Physical Infrastructural, Networking, and Telecoms. This model is designed as a modular system to fit the needs of almost any type of government agency, irrespective of size.
As depicted in the figure below, goIDM is divided into four quadrants (or components) and two distinct functions that determine a successful implementation of an ICT infrastructure and Data Centre. The first function, layer integration, refers to the vertical linkage that integrates the electrical and physical services to network and telecommunications services. In contrast, functional integration is the corresponding horizontal linkage between all the services.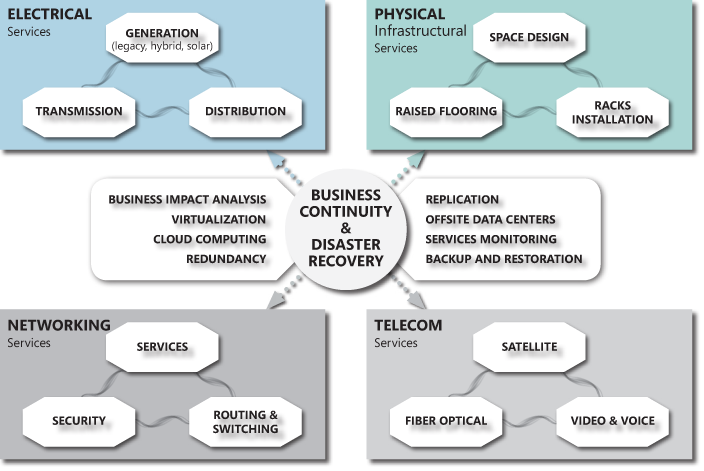 Power generation for the Data Centre through the installation of a hybrid solar system and about 30KVA Online Power Inverter 3 phase pure sine wave for the government agency's Data Centre. The provision of an alternative and steady source of power supply in the form of solar or green power is especially important for developing countries which have epileptic power supply.

Its advantages include:
Generation of energy from the sun and subsequent storage in batteries for
Minimization or eradication of unchecked endless financial expenditures on fueling and engine maintenance;
No risk of fuel scarcity and fire outbreak;
Elimination of noise pollution from the generator.
The design has the capacity to provide back up power for an equivalent load to the capacity of the Online Power Inverter, that is, about 30KVA for a minimum of 24hrs without sun, generator or public power supply.
Power Transmission in the Data Centre:
Change over panel
High voltage breakers
Grounding and bounding
Power Distribution in the Data Centre:
Stabilizer
UPS
Phase reversal
Distribution boards
Air-conditioning systems
Electrical Networks
Space Design for the Data Centre
Partitioning (double glass windows, doors, regular windows, etc.).
Raised Flooring in the Data Centre
Raised floor
Trunking
Cabling (data and electrical)
Racks Installation in the Data Centre
Distribution rack
Access racks
Monitoring controllers
Grounding
Rack cabling
Services:
Servers
Storage and Backup: with a maximum storage capacity of 4 TB (extensible to 8 TB).
Software and licensing
Security:
Physical (CCTV, firefighting, doors)
Network (Firewall, Layer2, RSA)
Routing and Switching:
Layer 1 - physical connectivity
Layer 2 - VLANs structure
Layer 3 - Routing
Satellite Connectivity
iDirect VSAT technologies
Fiber optical (Multimode, Path panels, and GBIC/SFP connectors)
Videoconference: Videoconferencing services could be deployed in the government agency to allow it to communicate with its external partners.
The project could provide other IT resources including file services, help desk and support management, systems access control and auditing, as well as business continuity support and disaster recovery planning. Additionally, user equipment such as PCs, laptops, and PDAs could be provided.