''go'' Family Products
The Information Technology Service (ITS) of the United Nations Office on Drugs and Crime (UNODC) specializes in the development, deployment and support of software applications for use by Member States in a range of UNODC's programme areas.
The products of the government office "go" family are part of UNODC's strategic response to crime, particularly serious and organized crime.
The ''go'' family includes integrated investigative case management and intelligence analysis tools for Financial Intelligence Units (FIUs), law enforcement, investigative, intelligence, regulatory, prosecution and asset recovery agencies, and for courts and other government agencies involved in the criminal justice process. All the software products include multi-faceted integration, and can function as "stand alone" applications or together to form one global system, depending on the needs of the requesting Member State. The application of systems able to interface with each other encourages inter-agency and cross border cooperation and information sharing at the national, regional and international levels.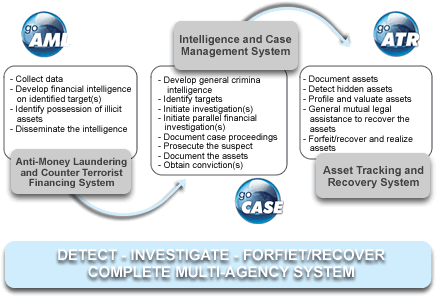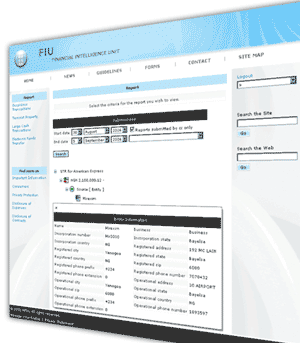 The goAML application is an integrated database, intelligence analysis, workflow and resource management system intended for use by Financial Intelligence Units (FIUs) worldwide.
goAML provides a "one stop" FIU-specific solution, and is executed in three steps: data collection, analysis (rule-based analysis, risk-score and profiling) and dissemination (escalate to law enforcement and seek feedback). It provides a facility for the rapid and easy online exchange of information between the FIU, reporting entities, law enforcement and judicial authorities, while ensuring data confidentiality.
The system integrates 14 separate functions into one package. It is the only "off the shelf'' system available to FIUs that includes data collection, data evaluation and clean up, ad-hoc queries and matching, statistical reporting on information/reports received and processed, structured analysis at both the tactical and strategic levels, person/entity/account profiling, rule-based analysis, workflow management, task assignment and tracking, document management with full text search capacity, intelligence file development and management, data acquisition/integration from external sources, integrated charting and diagramming and an intelligence report writer tool.
The goAML system is driven by a security model that specifies the kind of access rights each user has, and which provides an audit trail and log details for every transaction performed by all users. The goAML solution is well suited to both low and high data volume environments.
For more information, please consult goAML website: http://goaml.unodc.org
The goCASE application is an integrated investigative case management and analysis tool for government law enforcement, investigative and prosecution agencies of all United Nations Member States.
goCASE is UNODC's software solution for law enforcement agencies, intelligence units and other investigative bodies to manage and track the investigation of criminal and other offences. goCASE facilitates the collection and development of intelligence and the investigation and prosecution process that constitutes the front end of most criminal justice or regulatory systems.
The automation and integration of the different cycles within the Intelligence Process and the Criminal Justice System depend on a flexible software product that addresses all the requirements of authorities involved in intelligence, regulatory and justice systems, whether to support analysts in developing inferences and hypotheses and producing strategic or tactical intelligence outputs, or to support front-line officers and investigators in identifying and reacting to investigative leads, or to support prosecutors in handling court cases. goCASE presents one single solution to serve those different mandates.

Additionally, the software can seamlessly interface with other data management systems employed in the Criminal Justice System process, including courts' administration and corrections' systems. Such essential feedback from these other systems enriches data held in the goCASE system and provides historical data of cases, investigative techniques, persons, places and entities of interest.
For more information, please consult goCASE website: http://gocase.unodc.org
In the course of performing their various functions government officials deal with large volumes of information on a daily basis. They also need ready access to data and knowledge bases. A secure communications infrastructure based around a server room and/or data centre providing uninterrupted service to critical data processing and information management operations is essential.
Drawing on its many years experience of developing, deploying and maintaining software, hardware and physical infrastructure in diverse environments, the Information Technology Service of UNODC (the United Nations Office on Drugs and Crime) has developed an ICT and Data Centre Model for Government Agencies (goIDM). goIDM has been developed:
to assist Member States to make informed and rational decisions regarding IT infrastructure requirements
to provide a practical model for the utilization of well designed and tested infrastructure to allow for efficient and, where necessary, decentralized electronic communications
to provide Member States with the capacity to manage all types of information ranging from basic human resources data to highly confidential information and to monitor and manage performance and quality control
goIDM follows the five core values that form the foundation of an ICT infrastructure and Data Centre design philosophy - simplicity, flexibility, scalability, modularity and sanity.
The goIDM model was developed by UNODC with financial assistance of the European Union (EU). It has been deployed in Nigeria, in the Economic and Financial Crimes Commission (EFCC) and the Nigerian Judiciary, as part of the UNODC project NGAS08, to support the government of Nigeria's fight in combating economic and financial crime. The model has been successfully implemented in three EFCC sites and, as a result of this, will be further deployed to a total of 17 EFCC and Judicial sites at the federal and state levels.
This model has wide application for almost any type of Government agency.
goATR is the latest addition to the ''go'' family of IT products. All these products can be deployed as ''stand alone'' systems. However, when used in combination, they can receive raw data from any source and in any form, manage and analyze data, produce intelligence packages, manage all aspects of the investigation and prosecution process and, with the addition of goATR, identify, track, manage assets derived from criminal activity and manage whatever forfeiture or recovery procedure is applied to the assets be it civil or confiscation based.
goATR is an integrated system designed as a stand alone product for use by agencies solely concerned with handling the legal process of asset forfeiture and recovery or as a component of UNODC's goCASE electronic case management system for agencies involved in investigations of any type that involve the identification, restraint, management, forfeiture, recovery and realization of criminally-derived assets.
The core components of the goATR system include:
Data collection
Data evaluation and clean up
Document management with full text search capability
Ad-hoc queries and matching
Workflow management
Task assignment and tracking
Automated generation and tracking of correspondence and documents
Operational cost monitoring and control
Data acquisition/integration from external sources
Integrated charting and diagramming
Mutual Legal Assistance writer tool
User friendly Windows-based user interface
Fully customizable document and process templates
Multi-lingual capacity
Fully electronic data communication at the domestic, regional or international levels
Statistical reporting on all activities conducted
At the heart of the goATR product is the fully-customizable workflow system which initiates whenever new information or a new case is introduced to the system. The workflow tool drives the process from that point forward and guides the user through a predetermined workflow process configured to the legal and procedural requirements of the user jurisdiction. The workflow can be modified at any point should the case not fit the standard workflow template and can be monitored by management at every step of the process.
Asset forfeiture and recovery cases are necessarily document intensive. The automated document management system allows for documents of all types to be recognized and stored within the database. A full text search capability which includes entity recognition and extraction means that documents and their contents can be easily and quickly searched and retrieved. This can include legislation, legal texts, case law, historical documents forming previous cases, etc.
The automated document generation capability means that all standard documentation associated with a case can be pre-loaded as templates, populated from the case file as it progresses and generated in hard copy or electronic format. Ad hoc templates to suit a particular case or situation can be easily created in the course of a case and stored should they need to be used or referred to in a future case.
Mutual legal assistance requests are a common tool utilized in asset forfeiture and recovery cases. The mutual legal assistance writer tool incorporated into goATR is customized to meet the legal and process requirements of the user jurisdiction and can import and save the legal and process requirements of requested Member States. A workflow process guides the requester through the process of preparing a mutual legal assistance request with easily understood and user friendly templates that, once fully populated to the system's requirements, automatically generates the mutual legal assistance request and communicates it to the Central Authority of the requested Member State. All requests prepared and sent and all requests received are stored and can be retrieved to guide future users through the process of requesting mutual legal assistance or dealing with incoming requests.
The speedy acquisition and management of data from external sources can contribute significantly to the efficiency of any case, particularly where time is of the essence. The goATR data acquisition tool matches the capability of goAML and goCASE to interface with any external database to which the user agency has access to allow ad hoc or workflow-driven requests for data. Where an automated user interface is not feasible the system can generate requests for information in a number of formats and communicate them through various media.
The workflow management, task tracking and cost monitoring and control modules of goATR are management tools that allow management to assign tasks and resources, monitor case progress and the workload of individual resources and to monitor and report on costs at any stage of a case.
The goATR system monitors and records all actions and outcomes associated to any activity generated within the system. This means that detailed and topic-specific statistical reporting is available to management at all times, a particularly useful resource when preparing annual reports, submissions in support of resource applications and reporting on departmental activity and achievement.
Asset forfeiture and recovery investigations and the associated legal process are specialized and resource and time intensive activities. The greater the level of automation that can be applied to the process the better the often scarce resources available to agencies can be utilized. Given the process-driven nature of such investigations and actions, a high degree of standardization can be applied through electronic means. This is a particularly valuable feature in jurisdictions where knowledge and experience is limited.
goATR used alone can make a significant contribution to the asset forfeiture and recovery regimes of United Nations Member States. The ''go'' products, if used together, can provide a ''turn key'' solution for a wide range of agencies forming the intelligence and law enforcement landscape of Member States.
The goASSESS application, part of the UNODC Information Technology Service (ITS) "go" family of software products, is designed as an IT-based tool for compiling "Detailed Assessment Reports" of countries' compliance with the Anti-Money Laundering and Countering the Financing of Terrorism (AML/CFT) Recommendations of the Financial Action Task Force (FATF).
The goASSESS solution provides a comprehensive assessment framework, allowing Evaluators to enter their evaluation criteria, customise them according to a specific country's profile, and build Detailed Evaluation Questionnaires and Detailed Assessment Reports. It covers all phases of the process, including preparation of interviews before evaluators' missions, drafting of the report by all members of the team during the mission, post-mission review, and final report production.
This solution is tailored to the needs of entities undertaking such assessments such as the IMF (International Monetary Fund), World Bank, FATF and FATF Style Regional Bodies.
goASSESS can easily be adapted to the needs of any organisation undertaking assessments of legal, law enforcement, intelligence and criminal justice systems.
goINTEL is a software package developed by UNODC that is designed to assist regional or domestic clusters of intelligence and law enforcement agencies to gather, analyze and share information and intelligence, agency to agency, or though a centralised hub. The system provides a secure and collaborative environment for sharing information and intelligence within established national legal frameworks, or within multilateral / regional / international agreements.
goINTEL is a key solution for the construction of a centralized platform that provides an efficient means to streamline the identification, prevention and investigation of criminal and terrorist activities. goINTEL brings distributed and heterogeneous information sources and human expertise together in a combined and cooperative environment to combat crime and threats to security.
The goINTEL "National Community" is the group of national competent authorities (law enforcement agencies, investigative and intelligences bodies, prosecutorial services, private sector entities, public sector offices) that benefit from or contribute to goINTEL services within the established legal frameworks and data protection laws of the environment in which they operate. Consensus amongst the membership defines the subscription level, and therefore system access, of any national entity registered within the system community. An "Entity Liaison Officer" appointed by each contributing agency is the focal point at the entity level and is in charge of administrating and monitoring all activities related to or involving that entity within the goINTEL National Community.